Vermont Agency of Agriculture Food & Markets If you paid fees to receive USDA organic certification between October 1, 2021, and September 30, 2022, the Vermont Agency of Agriculture, Food & Markets has funding available to reimburse you. 
With funding assistance through the U.S. Department of Agriculture, certified organic producers and handlers who are newly certified or re-certified are eligible for reimbursement. 
The reimbursement can be up to 50% of the direct certification costs. The maximum reimbursement is $500 per certification scope. The four scopes are crops, livestock, wild crops, and handling. 
Allowable costs include application and inspection fees, organic certification costs, user fees/sale assessments, and postage. 
The deadline to apply for reimbursement is November 1st. Reimbursement is first come, first served. 
Questions? Please contact Terry Smith at [email protected] or 802-828-5667.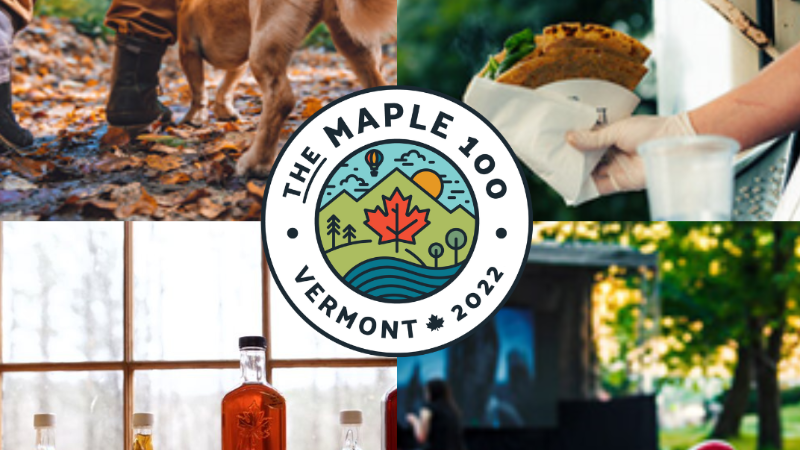 Find a Maple 100 Event Near You
The Vermont Maple 100 is only two weeks away! The Maple 100 is a month-long annual promotion highlighting the hundreds of maple activities, adventures, and maple-inspired products available across Vermont. 
Events are taking place at farms, food businesses, sugarmakers, restaurants, lodging establishments, and more!
You can see a color-coded list of Maple 100 participants here. You can also view a map of every event here.
Find an event near you, support a local business, and explore Vermont's sweetest export! 
Maple 100 Events: Sept. 15th-Oct. 15th
The Agency of Ag, in partnership with the USDA Agricultural Marketing Service, has a Local Food Data Tracking Program with weekly pricing reports for farmers market meat, produce, and eggs, as well as monthly beef pricing. 
If you are a consumer buying meat and produce or a producer pricing your products, the program has average prices and ranges for a variety of market vegetables, meats, and eggs. There is also average pricing and ranges for retail and wholesale beef.
The data is from farmers markets and beef producers in Vermont. It is published on our website.
Check out this great resource here
UVM Extension Maple Business Programs
The University of Vermont has two educational series offered through the Maple Management Program.
The Fall Webinar Series is on Wednesdays from Aug. to Oct. at 7:00pm ET. These free events cover topics like succession and transfer planning, financial planning, and market development. You can see descriptions here.
The Fall Business Short Courses are in-depth multi session courses that include live sessions, activities, and resources. The free courses are four weeks and cover succession and transfer planning and business management. You can see descriptions here.
Register for webinars and courses here
Raw Dairy Class: Learn to Make Aged Cheese
Join Rural Vermont at Handspun Cow Education Homestead in Tunbridge for a Raw Dairy Class on making aged cheese. 
The class will focus on making an Alpine style hard cheese using kefir grains to culture. Each participant can take home grains to make their own aged cheese. 
The class instructor is Kalyn Campbell, a homesteader making and growing her own food and clothes, including all things dairy. She has more than 10 years experience milking animals commercially and at home. 
The class is $20-40 per person (sliding scale). Registration is required. 
Class: Sept. 18th from 1-4:00pm ET