by Timothy McQuiston, Vermont Business Magazine Weekly unemployment claims were down from last week and remain at a higher level than last summer. The summer claims were similar to a pre-pandemic summer, with typically low claims about or below 300 a week. The holiday season usually results in wild swings in claims as retailers hire and fire workers to meet the ebb and flow of customers. Those swings have not been witnessed yet.
As for last week's unemployment claims in Vermont, there were 447 regular initial claims, down 75 for the week and 413 fewer than this time last year. The state unemployment rate is also near its low pre-pandemic levels 2.9 in September. But the Federal Pandemic Unemployment Compensation programs have now expired and nearly all claims have played out.
The Federal Pandemic Unemployment Compensation (FPUC), which includes the popular PUA, has been credited with helping keep the economy afloat while also lowering the poverty rate (see US Census report below). Even in its last full week in early September, the FPUC was putting about $3.6 million extra into the hands of unemployed or underemployed Vermonters.
Last week there were a total of 2,717 regular claims, up 14 from the week but 8,968 fewer than last year.
Including what is left of the FPUC categories, there were a total of 2,819 claims last week, 43 fewer than last week and 27,965 fewer than last year. That decrease included the PUA claims, which was a new category specifically developed early on in the pandemic as part of the CARES Act for self-employed and "gig" workers, who previously did not qualify for any UI. The PUA claims accounted for 8,300 of the 27,965 decrease.
"The federal CARES Act programs played an important role in providing temporary assistance to make sure Vermont workers were supported during a time of great uncertainty throughout the last seventeen months" said Commissioner Michael Harrington in August. "Since March 2020, the Department has issued over 2.3 million unique benefit payments to more than 100,000 Vermonters totaling over $1.7 billion."
Those individuals on regular UI will continue to collect benefits as they are eligible under regular unemployment, but they will no longer see the FPUC supplement.
Employers are hoping that once workers come off UI they will return to the workplace. The evidence from states that chose to end the federal pandemic assistance early does not indicate that workers will necessarily return to those jobs most needed, as in restaurants.
For instance, Missouri ended their benefits at the end of June, but workers did not flood back to those jobs. The Show Me state gave up an estimated $750 million in projected federal, taxable benefits when it closed down the pandemic program.
Nationally, there is a worker shortage, estimated at upwards of 25 million. Like many states, Vermont is looking to new Americans to bolster the workforce, including the from Afghanistan.
COVID also largely stopped immigration, cross-border workers and college students from alleviating the worker shortage. The Canadian border reopened November 8. 
Scott has acknowledged that the end of the FPUC, return of college students, high vaccination rates and some immigration all together will not solve the worker shortage in Vermont, which he has repeatedly point out was a big problem before the pandemic.
He also is aware that workers in hard-hit industries like retail, restaurants and tourism might simply not want to go back to those jobs, or will seek a career change.
There is some concern that the COVID-19 Delta variant could further keep employment low and customers away, as they once again play it safe.
However, much anecdotal evidence suggests that customers and diners are returning, but it's the labor side of it that's been the limiting factor for businesses.
The state has implemented programs to help people change careers.
A free course program through UVM and CCV were quickly snatched up. Upskill Vermont Scholarship Program was launched July 13 with the goal of enrolling 500 Vermont residents through the Fall 2021 and Spring 2022 semesters. All the slots were filled by the end of the first week the program was open. 
The worker relocation program to bring new workers to Vermont also was recently launched.
The Vermont unemployment rate for September 2021 was 2.9 percent, down one-tenth from August. This is near the very low pre-pandemic level, but the labor force, despite gains, has not fully bounced back and is still 1,967 workers less than September 2020.
"This economic recovery is unusual for many reasons," said Vermont Labor Commissioner Michael Harrington. "While the unemployment rate is near pre-pandemic levels, the labor force is down approximately 7% or 25,000 individuals. The number of filled jobs is down about 6% or 20,000 positions. This contraction in the labor force combined with Vermont employers ramping up hiring efforts to fill open positions is resulting in an extremely tight labor market. The Department's job board, VermontJobLink.com, shows over 10,000 open positions currently under recruitment in Vermont and our local workforce teams continue to work with jobseekers, offering both in-person and virtual services, such as workshops, job fairs, and one-on-one career consultations."
The Department has continued to connect with unemployment insurance claimants through direct email and phone outreach to provide information on how the end of federal benefits will impact them, as well as what workforce development support services are available to assist them with re-employment.
Workforce Development team members are located at Job Centers now open for expanded hours across the state and are available for both virtual and in-person career consultations.
Local career specialists can assist jobseekers in finding career and training opportunities, as well as employers looking for talent through job promotion, hiring events, and applicant referrals.
Local and statewide teams continue to hold weekly virtual workshops and events, including sessions on resume writing, re-employment strategies, and virtual job fairs. Learn more at Labor.Vermont.gov/Jobs. 
Meanwhile, the state's Unemployment Trust Fund remains in a strong position. Vermont began the pandemic with $506 million in its trust fund. As of the most recent week, the fund stands at $240.9 million, up $26.3 million from last week.
The Trust Fund took a big hit initially from the pandemic, but quickly stabilized as the Paycheck Protection Program and FPUC kicked in. 
The fund is down $17.5 million from the same time last year as those federal programs are no longer generating taxable income.
The AP reported last spring that at least 29 states were forced to transfer money from coronavirus aid to their trust funds. Vermont did not have to. During the Great Recession Vermont ran out of money in its fund and had to borrow money from the federal government. The state subsequently bolstered its UI Trust Fund, which paid off this time around.
NATIONALLY
According to the US Department of Labor, new weekly unemployment claims were 268,000 slightly higher than the economists' expected 260,000 and down 1,000 from the previous week. This was the sixth straight week they were below 300,000. Total ongoing claims were 2.08 million, down from 2.21 million. This is near the pre-pandemic levels.
The US DOL's "quits rate" surged to 3.0 percent in September, the highest on record, which was further evidence that workers are leaving their current job for some other position or are simply getting out of the workforce. The DOL report was released November 12. There were 
4.4 million quits (+164,000 from August).
Quits increased in several industries with the largest increases in arts, entertainment, and recreation (+56,000); other services (+47,000); and state and local government education (+30,000). Quits decreased in wholesale trade (-30,000). The number of quits increased in the West region.
CareerCloud in September issued a report on the  Labor Shortage Impact Across America using data from the Bureau of Labor Statistics (BLS), Indeed, ZipRecruiter, and CareerBuilder through September 8.
The rankings were determined by comparing the number of unemployed people with job openings across the three major job boards in every state and DC.
Vermont ranks No. 4 with 1.59 job openings per unemployed person.
CareerCloud's 4 Tips to Help Business Owners Fill Jobs During the Labor Shortage: 
US Census: Expanded Unemployment Insurance Benefits During Pandemic Lowered Poverty Rates Across All Racial Groups
Understanding why earnings for full-time, year-round workers could go up while earnings overall declined requires a deeper dive into who lost their jobs.
In the early months of the COVID-19 pandemic, shutdowns across the country resulted in rapid job loss. In response to soaring unemployment, Congress passed the Coronavirus Aid, Relief, and Economic Security (CARES) Act in late March 2020. The CARES Act significantly expanded unemployment insurance by $600 a week, broadened eligibility, and extended benefits for an additional 13 weeks.
How did these moves affect the official poverty rate?
Unemployment insurance (UI) benefits lowered the overall poverty rate by 1.4 percentage points to 11.4% in 2020 and decreased poverty across all racial groups and all age groups, according to U.S. Census Bureau data released recently (differences due to rounding).
Without unemployment insurance, 4.7 million more people would have been in poverty and the overall poverty rate would have been 12.9% in 2020. Less than full-time, year-round workers were among the most impacted by expanded unemployment insurance benefits.
UI lowered the poverty rate for less than full-time, year-round workers by 4.1 percentage points (2.2 million) in 2020.
The effects of UI on poverty rates were particularly stark for some demographic groups.
Race and Hispanic Origin
Unemployment insurance had a large impact on poverty among the Black population, lowering the number of Black people living in poverty by 2.5% (1.1 million).
Impact of UI on other groups:
For White, non-Hispanic individuals, the number in poverty decreased by 1.0% (1.9 million).
For Hispanic individuals, the number in poverty dropped by 1.9% (1.2 million).
For Asian individuals, 2.1% (425,000) were not in poverty due to UI.
The decline in poverty rates between Asian and Hispanic individuals and Asian and Black individuals were not statistically different.
Age
Unemployment insurance lowered the number of individuals in the United States living in poverty for all age groups in 2020.
UI had the greatest impact on children (under age 18) and the least impact on people 65 and older.
The number of children living in poverty fell by 2.0% (1.4 million) after including the value of UI while the number of people ages 18 to 64 living in poverty fell by 1.6% (3.1 million).
Among people ages 65 and older, UI pulled only 0.3% (160,000) out of poverty.
Educational Attainment
Unemployment insurance lowered the number of people living in poverty across all educational attainment groups.
UI had the smallest effect on the poverty rate of those with a bachelor's degree, keeping only 0.7% (636,000) of these individuals out of poverty.
The effects were higher for all other attainment groups:
For those with some college, 1.5% (855,000 people) were not in poverty due to UI.
For those with a high school diploma but who did not attend college, the number in poverty dropped 1.5% (948,000).
For people without a high school diploma, the decline was 1.5% (307,000).
The percentage point decline in poverty rates between those without a high school diploma was not significantly different from the decline in poverty rates for those with a high school diploma who did not attend college or attended some college.
Neither the decline in poverty rate nor the change in the number of people in poverty were significantly different between those with a high school diploma who did not attend college and those with some college.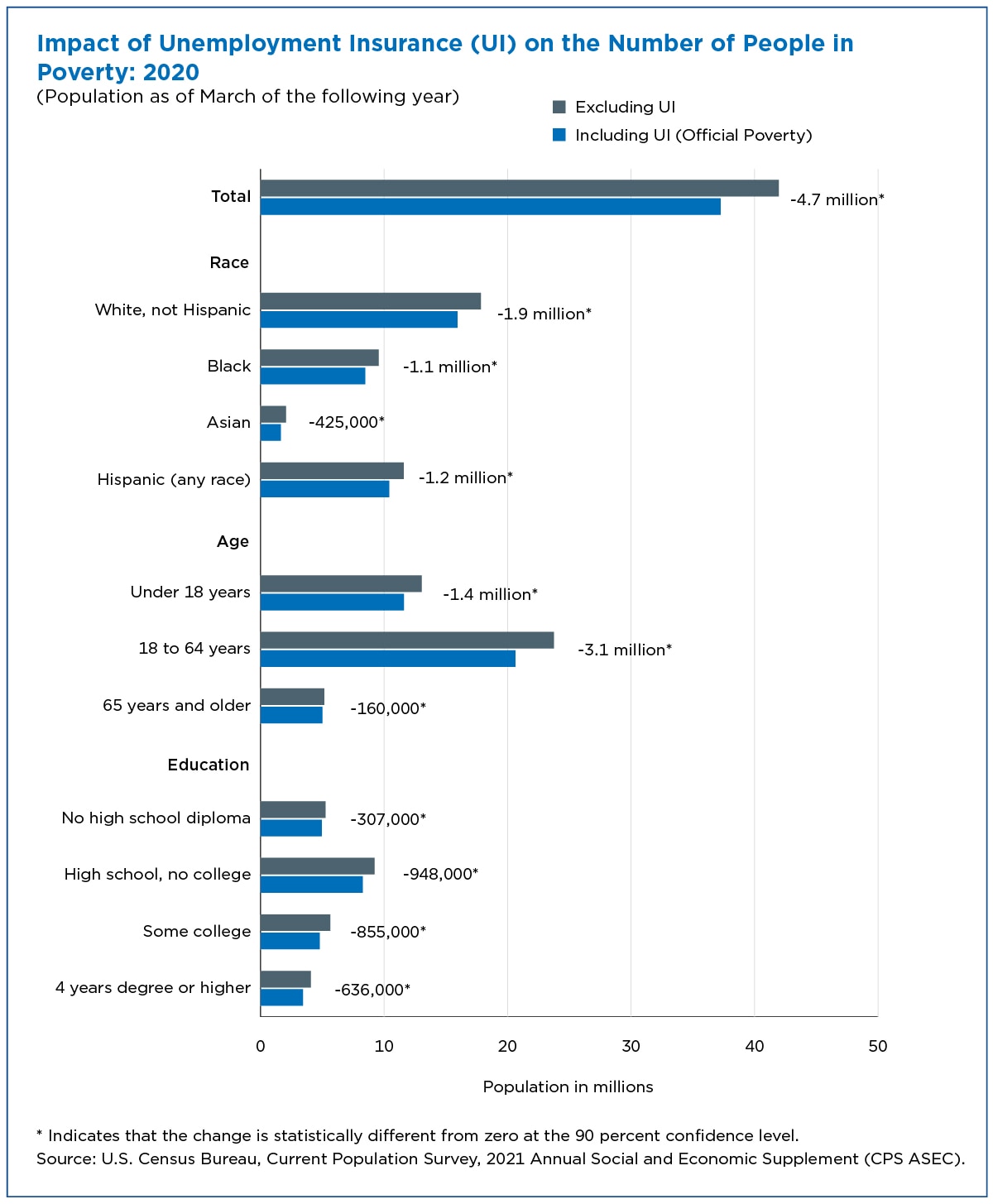 US Census: Fewer Low-Wage Full-Time, Year-Round Workers During COVID-19 Causes Increase in Median Earnings Among Those Still Employed
Income statistics released by the U.S. Census Bureau from September show a 2.9% decline in median household income between 2019 and 2020 and a 1.2% decline in the median earnings of all workers. But during the same period, real median earnings of full-time, year-round workers increased 6.9%.
Understanding why earnings for full-time, year-round workers could go up while earnings overall declined requires a deeper dive into who lost their jobs.
In short, earnings grew because the decline in full-time, year-round workers was concentrated among workers with lower earnings and workers in low-wage industries and occupations.
Employment Decline by Earnings
Newly released data from the Current Population Survey Annual Social and Economic Supplement (CPS ASEC) reveal the significant and uneven impact that the COVID-19 pandemic had on the labor market.
There were 13.7 million fewer full-time, year-round jobs in 2020 than in 2019, and most employment decline was among workers earning less than $52,000 — the median annual earnings among full-time workers in 2019 (Figure 1).
The decline in workers earning less than the median accounted for about 84% of the total decline in full-time, year-round employment in 2020.
While the pandemic affected earners in the upper half of the earnings distribution as well, the decline for those earning above the 2019 median was more limited.
It was the larger employment decline of these lower wage jobs compared to the employment decline from the higher wage jobs that drove the increase in median earnings for those still employed full-time, year-round in 2020.
Employment Decline by Occupation
We also examined the decline in full-time, year-round employment across job type (Figure 2). We rank 22 major occupation groups by the median hourly wage among full-time, year-round workers in 2019.
The decline in full-time, year-round work was highest in food preparation and serving related occupations — bartenders, waiters and waitresses, and cooks, for example. Occupations in this broad group accounted for 12.5% of the decline in employment and had the lowest hourly wage in 2019 ($13/hour).
Employment Decline by Industry
Finally, we look at the share of employment decline for full-time, year-round workers by 13 major industry groups. Again, we rank the industries by median hourly wage of full-time, year-round workers in 2019.
The leisure and hospitality industry experienced the largest share of employment decline at 24.3%. This industry also had the lowest median wage among all industries in 2019 ($15/hour). It includes establishments in arts, entertainment, and recreation; accommodation; and food services and drinking places.
The large share of the decrease in full-time, year-round employment in food preparation and serving related occupations and in the leisure and hospitality industry, is not surprising given which businesses had to shutter during the pandemic.
But our analysis shows that the decrease in full-time, year-round employment among these low-wage workers was large enough to substantially change the composition of full-time, year-round workers, which explains why median earnings for full-time, year-round workers increased last year while median earnings for all workers fell.
Information on confidentiality protection, methodology, sampling and nonsampling error, and definitions, is available on this technical documentation page. 
Sources: VDOL. US Census. 11.18.2021