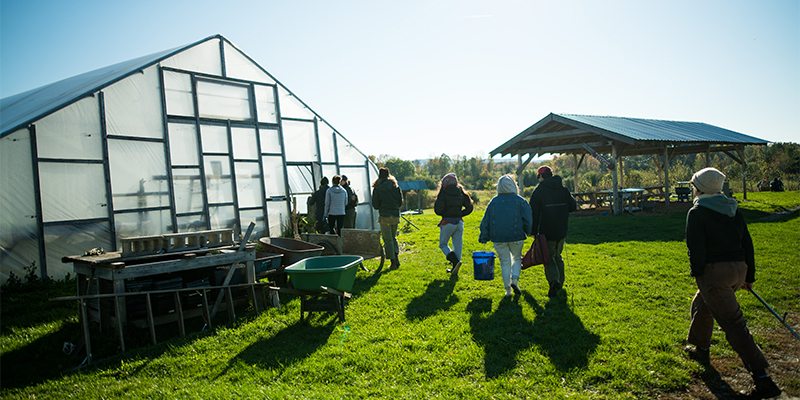 New 'pay-for-performance' program puts Vermont and UVM in the vanguard of policy research. Photo courtesy UVM
University of Vermont researchers are partnering with Vermont officials on a new $7-million program that takes a unique approach to protecting watersheds: paying farmers to reduce phosphorus pollution.
The pilot program, informed by UVM research, will test a new tool—financial incentives for farm performance—to advance the state's phosphorus reduction efforts. Until now, the focus has primarily been on inspection, enforcement, and pay-for-practice financial assistance programs.
Instead of putting farmers and nature in conflict, the Vermont Pay-For-Phosphorus Program seeks a win-win approach, which could address two major state issues at the same time: phosphorus pollution—which hurts water quality—and greater economic sustainability among Vermont's struggling farmers.
"Farmers play many vital roles in society, including as stewards of Vermont's iconic working landscapes," said Taylor Ricketts, Director of the Gund Institute for Environment, who co-led a UVM graduate class that helped to shape the program. "Programs like this one aim to reward them for that role."
Farmers can register in late Fall 2021 for the program, which is supported by the USDA Natural Resources Conservation Service. UVM researchers will evaluate the program's effectiveness, and explore how to improve it, as part of the partnership.
"Innovation will play a critical role in improving our environment," said Vermont Agriculture Secretary Anson Tebbetts. "With a clear focus on the reduction of phosphorus pollution from our working lands, this new program creates a path to reward Vermont farmers for their efforts to improve water quality. We encourage all farmers to take a close look at this new program."
CUTTING EDGE POLICY
This type of program—known as a "payment for ecosystem services" (PES)—is gaining attention from U.S. and state agencies seeking new tools to fix longstanding environmental issues.
While other PES programs exist, Vermont's will be one of the first to focus on phosphorus specifically, and to target hundreds of farmers, rather than a few major "point sources" of pollution. Other PES programs include California's Healthy Soils Program, Denver Water's Upstream Protection Program, New Zealand's Nitrogen Trading Program, and Costa Rica's Payments for Environmental Services Program.
In Vermont, enrolled farmers will receive payment per pound of phosphorus runoff that they reduce above and beyond the program's threshold standards, through a menu of on-farm practices. In all, $4.9 million in payments to farmers are planned over this 5-year project. To encourage participation in the program, farmers who successfully enroll in the program will be eligible for an incentive payment of up to $4,000 per farm.
With the science on PES programs still relatively new, the partnership puts the UVM team in the vanguard of PES policy research. The scientists will provide rigorous analysis of the pilot program, look for any unintended consequences in the food system, and provide the state with recommendations to increase the program's effectiveness.
"What happens here, and what we learn—other states are watching closely, and they want to apply those lessons in their own region," said Alissa White, UVM's first-ever Postdoctoral Researcher in Regenerative Agriculture, thanks to a partnership between Ben & Jerry's ice cream company and the Gund Institute for Environment.
"We are excited to learn what the ripple effects of this kind of program will be—not only the impacts on phosphorus flows into the Lake Champlain Basin, but also long-term farm stewardship, and the financial viability of agriculture in Vermont," said White, who will help to study the program.
HOW IT HAPPENED
Like many lakes, Vermont's Lake Champlain—which borders Canada and New York—is bombarded by phosphorus runoff from agriculture, developed lands and other sources. While phosphorus—found in fertilizer, animal feed, and manure—is essential for crop growth, it's a problem at high levels, causing pollution and toxic algae blooms.
In 2019, graduate students from the Gund Institute launched a project to explore two central Vermont problems: The lake and other waterways are polluted, and the state's iconic dairy industry is in trouble, having lost over 33% of its dairy farms since 2012.
Supported by Ricketts and other faculty, the seven graduate researchers did a deep dive on PES programs and ideas around the world, combining a range of expertise: nutrient cycling in soils, policy, economics, conservation, and social sciences and equity studies.
After months exploring how small, rural states like Vermont—with many small farms—might pay farmers to keep phosphorus on farm fields, they presented their plan to community groups, and a working group of the state legislature.
"That's what universities can do—take a problem facing society, and turn it into a course or research project to help find real-world solutions," said Ricketts, who served on the state's first-ever Payments for Ecosystems Working Group.
This problem-solving approach is central to UVM's Land Grant mission.
THE FUTURE OF FARMING
Essentially, farmers would be paid to reduce phosphorus runoff, not just produce milk, vegetables and other crops. If successful, the idea could even be expanded, researchers say.
"The big idea is to pay farmers for a range of new products and services beyond the traditional commodities," said Ricketts. "Programs could also pay farmers to store carbon in soils to reduce greenhouse gas emissions, or to store water during storms to reduce flood damage downstream."
Such payments are an innovative way to provide incentives without adding more rules and regulations, said Ricketts, who is also Gund Professor in the Rubenstein School of Environment and Natural Resources. "We're not telling farmers what to do. It's a way of using a financial, market-like system to encourage public goods."
Alissa White, a Gund postdoctoral researcher from UVM Extension, in the College of Agriculture and Life Sciences, is excited to put the class's ideas into practice. "All of us—the government, farmers, researchers—will learn so much from this experience," said White, who will replace Ricketts on the state's Payments for Ecosystems Working Group.
"It's exciting, because it puts the new kind of program we've been investigating into practice, and gives us a chance to evaluate its performance in real time," adds Ricketts. "That's a researcher's dream."
Graduate researchers involved in the UVM PES course project included Courtney Hammond Wagner, Jesse Gourevitch, Katie Horner, Eva Kinnebrew, Becky Maden, Eric Recchia, Alissa White, and Adrian Wiegman.