Vermont Business Magazine As of Monday afternoon, there were 21 new cases of COVID-19 reported by the Vermont Department of Health. The total number of cases is 256. The number of deaths from the novel coronavirus in Vermont remains at 12. Chittenden County has the most total cases with 155. Windsor County is next with 18 and Bennington County has 17.
At Governor Scott's press conference this morning, Health Commissioner Mark Levine, MD, said that of the 12 deaths, seven are associated with the outbreak at the Burlington Health & Rehabilitation Center and two are attributed to a senior living facility in Essex. One of the Essex cases was a resident and the other was the significant other of a resident. The Essex residence is not a health care facility, he said.
Vermonters are being asked to stay home as much as possible to keep everyone safe during this pandemic. Please leave for essentials only, such as food, and keep a safe distance of six feet between yourself and others. This will help slow the spread of the virus and protect people who are more vulnerable. Though we can all feel isolated at this time, we can, and should, connect with each other through technology, reading books, playing games and finding hobbies we enjoy. We're all in this together.
If you have symptoms of COVID-19 and mild illness, you can stay home and treat your symptoms. Not everyone needs to be tested, and testing is only done through the referral of health care professional. Testing is not treatment. Use the NEW 
CDC Self Checker Tool(link is external)
 to help you make decisions about seeking medical care.
The coronavirus attacks the lungs, making it harder for people who smoke or vape – tobacco, cannabis or anything else – to fight off the virus, putting them at much greater risk of severe illness, even death. There has never been a better time to quit. 
Find resources at 802QUITS.org
New Travel Update: Residents and non-residents coming to Vermont from outside the state ­– for anything other than an essential purpose ­­– should home-quarantine for 14 days, following a March 30 order from Gov. Phil Scott. Travel to Vermont by anyone located in COVID-19 "hot spots" is discouraged. 
Read the order(link is external)
. Travelers should follow newly released 
CDC guidance around interstate travel(link is external)
 from New York, New Jersey and Connecticut, which advised residents of those states to refrain from non-essential domestic travel for 14 days.
WHEN TO CALL
If you have questions about COVID-19: Dial 2-1-1. If you have trouble reaching 2-1-1, dial 1-866-652-4636. You can also use the Ask a Question tool on this page.
If you are sick or concerned about your health: Contact your health care provider by phone. Not everybody needs to be tested. Do not call the Health Department. Do not go to the hospital, except in a life-threatening situation.
COVID-19 ACTIVITY IN VERMONT
COVID-19 Activity in Vermont
Information updated daily by 1:00 p.m. Numbers are preliminary and subject to change. Last updated: March 30, 2020
Positive test results*
256
Total tests conducted
3,930
Deaths

+

12
People being monitored
219
People who have completed monitoring
546
*Includes testing conducted at the Vermont Department of Health Laboratory, commercial labs, and other public health labs.

+Deaths of persons known to have COVID-19. Death certificate may be pending.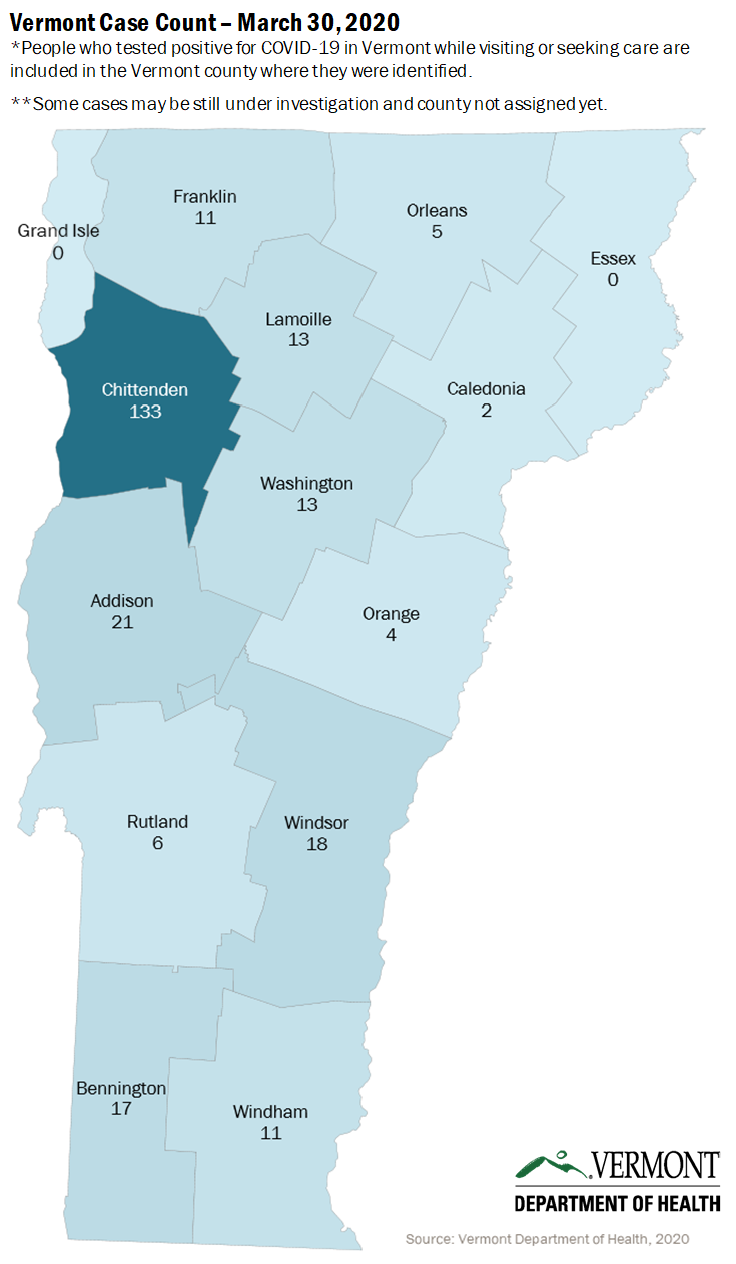 ASK A QUESTION
Go to the HealthVermont.gov website and type your question about COVID-19 in Vermont in the space provided. Click HERE to reach the page.