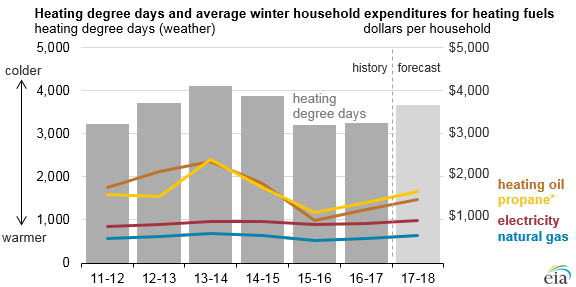 Source: U.S. Energy Information Administration, Short-Term Energy Outlook, Winter Fuels Outlook, October 2017
Note: Propane price is the weighted average of Midwest and Northeast prices. All other fuels reflect national averages.
---
Vermont Business Magazine National weather forecasters are predicting a colder winter than last year. So with cold weather just around the corner, Green Mountain Power is helping Vermonters stay warm with a $130,000 donation to the statewide WARMTH program. This will be the 32nd year that Green Mountain Power has contributed funds to help people with heating emergencies.
"We are always heartened to see how generous our customers are in helping to keep their neighbors warm by supporting the WARMTH program," said Mary Powell, President and CEO of Green Mountain Power. "We are glad that we can play an important part in supporting the program, as well."                                                                             
AccuWeather is predicting a chilly winter is in store for the Northeast and mid-Atlantic, particularly when compared to last year. For most of both regions, this will translate to an above-normal snow season.
For more than 30 years, WARMTH has helped families who are facing heating emergencies and are not able to find help through other channels. WARMTH offers essential information and counseling to help families avoid heating crises, and in a heating emergency offers financial assistance. More than 90,000 families have received funds totaling more than $5 million. The state's five Community Action Agencies manage the funds, ensuring that every dollar contributed goes directly to a Vermonter in need.
"We are so grateful to Green Mountain Power and its customers for helping families who struggle to pay for heat," said Jan Demers, Executive Director of Champlain Valley Office of Economic Opportunity. "The WARMTH funds provide essential assistance for people who find themselves in a heating emergency."
GMP encourages others to get involved and support this critical program, where 100 percent of donations go directly to help people with heating emergencies. Funds are paid directly to the fuel or energy supplier, and each household receives no more than $225 in assistance per year.
Green Mountain Power customers will receive a WARMTH brochure with their November and December bills with information on how to donate. Customers can include a check to WARMTH with their GMP bill or send directly to their local Community Action Agency. To learn more about this program or to find the Community Action Agency in your area, visit CVOEO.org.
Vermonters who may be eligible for assistance through the WARMTH program can contact their local Community Action Agency or call 2-1-1 for confidential information and referral to community resources.
Colder Winter
The US Energy Information Agency released its home heating costs outlook October 11. The EIA anticipates that most US households can expect higher heating expenditures this winter (October through March) than the last two winters, according to EIA's Winter Fuels Outlook. Higher expected winter heating expenditures are the result of both more heating demand because of relatively colder weather and, to a lesser extent, higher fuel prices.
EIA forecasts that average household expenditures for all major home heating fuels will rise this winter because of expected colder weather and higher energy costs. Average increases vary by fuel, with natural gas expenditures forecast to rise by 12%, home heating oil by 17%, electricity by 8%, and propane by 18%.
EIA's projections of heating demand are based on the most recent temperature forecasts from the National Oceanic and Atmospheric Administration (NOAA). NOAA's forecast anticipates that winter weather will be 13% colder than last winter and closer to the average of the previous 10 winters.
Because weather patterns present great uncertainty to winter energy forecasts, EIA's Winter Fuels Outlook includes projections for 10% colder and 10% warmer scenarios. In the past 10 winters, actual temperatures have been more than 10% colder than NOAA's September forecast once and warmer than the forecast twice.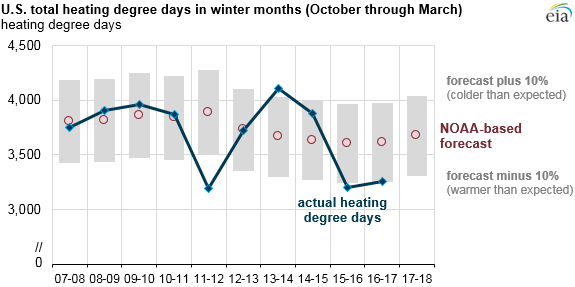 Source: U.S. Energy Information Administration, Short-Term Energy Outlook, Winter Fuels Outlook, October 2017
---
The average household winter heating fuel expenditures in EIA's forecast provide a broad guide to expected heating expenditures. Fuel expenditures for any household also depend on the size and energy efficiency of the home and its heating equipment, indoor temperature preferences, and local weather conditions.
The choice of primary heating fuel varies considerably by region, resulting in regional differences in total expenditures. Natural gas is the most common space heating fuel in every region except the South, where electric heating is more prevalent. Heating oil is much more common in the Northeast than in other regions, while propane is more common in the Midwest.
---
More information about EIA's expectations of winter fuels prices and expenditures is available in the Short-Term Energy Outlook supplement on winter fuels.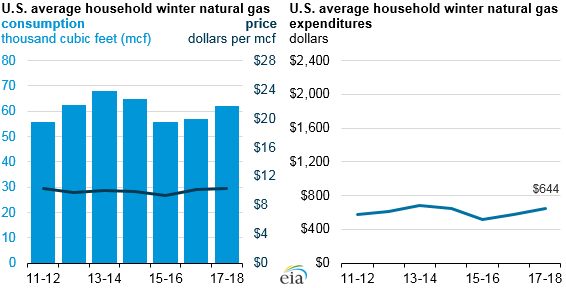 Source: U.S. Energy Information Administration, Short-Term Energy Outlook, Winter Fuels Outlook, October 2017
Note: Winter covers the period October 1 through March 31.
Average Consumer Prices ($) and Expenditures for Heating Fuels During the Winter
About Green Mountain Power:
Green Mountain Power (GMP) serves approximately 265,000 residential and business customers in Vermont and is partnering with Vermonters to improve lives and transform communities. GMP is focused on a new way of doing business to meet the needs of customers with integrated energy services that help people use less energy and save money, while continuing to generate clean, cost-effective and reliable power in Vermont. GMP is the first utility in the world to get a B Corp certification, meeting rigorous social, environmental, accountability and transparency standards and committing to use business as a force for good. In 2014, Vote Solar named GMP a Solar Champion. More information at: www.greenmountainpower.com. Connect with GMP on Facebook and follow us on Twitter @GreenMtnPower.
Story: Winter forecast: Snowier in Northeast, La Niña fuels snow in Rockies; bitter cold in Midwest
Source: COLCHESTER, VT GMP 10.11.2017