Community Health Centers of the Rutland Region
Vermont Business Magazine If you stopped by the pop-up tent outside the Paramount Theater a few weeks ago, you might have met Kelsey Bathalon, BSN, RN, CCM, a volunteer and Care Manager from Community Health, working the crowd, signing up participants in this year's Walk to End Alzheimer's in Rutland on Saturday, September 23.
"Our team is the Community Health Walkers," Bathalon said. "We'll gather around 9am at Main Street Park for the Rutland walk that starts at 10am." So far, over 30 teams are registered. Join our Community Health team or create your own team.
Alzheimer's isn't new to Rutland County and Vermont. The Alzheimer's Association predicts that the number of Vermonters living with Alzheimer's (13,000 in 2020) will increase over 30% by 2025.
Jazmin Averbuck, Development Manager for the Vermont Chapter of the Alzheimer's Association, said the Rutland walk is about hope and remembrance.
"We expect to see caregivers, those with Alzheimer's, those who lost loved ones recently and want to feel the love everyone has. Also, we have supporters who don't have a personal connection."
The walk brings the community together along a route that loops around downtown. There will be messages along the route noting how many people are affected by Alzheimer's and how Alzheimer's effects people's lives.
"The park opens at 9am, so you can register on site," Averbuck said. "There will be a kids-zone, tables for the supporters and the Promise Garden, where the walkers can personalize colorful flowers, take photos with their teams and plant the Garden of Promise."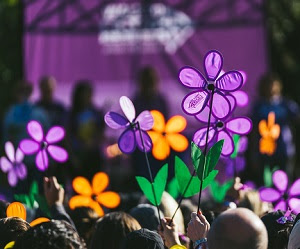 The annual walk sponsored by the Alzheimer's Association is a celebration of the advances made in Alzheimer's research and education. Funds raised from the walk go toward educational programs and research.
"This walk is a steppingstone to spread that message in the community," Averbuck said. "It's about hope for a cure, celebrating the research and treatments that came out this year and remembering those we lost and those living with the disease."
She said that the walk is also a reminder that walking is good exercise, recommended for brain and body health. "What is good for your heart is good for your brain.The walk is 1.08 miles. We are helping each each other and getting exercise too."
 
Community Health's Alzheimer's Support Group
In addition to being the Community Health Walkers organizer, Bathalon is part of a team of Community Health volunteers who facilitate a monthly support group for Alzheimer's caregivers in the Rutland area. They meet the second Tuesday of each month from 4-5pm in Suite 403 at Community Health's Allen Pond offices at 71 Allen St. in Rutland.
 
"Anyone who is associated with someone who has Alzheimer's or anyone who could benefit from our support group - they are all invited to the meetings. They can be friends, relatives or anyone affected by dementia or Alzheimer's," Bathalon said.
Register Now for the Walk
 
The September 23 walk is about awareness and raising funds for Alzheimer's research. All funds raised through Walk to End Alzheimer's further the care, support and research efforts of the Alzheimer's Association, a nonprofit 501(c)3 organization.
Register now and then be sure to walk on Saturday, September 23. Share your team experience using #Walk2EndAlz and #ENDALZ.
Learn more about Alzheimer's disease and speak with your Community Health primary care provider about services and community resources.
Community Health is Vermont's largest FQHC (Federally Qualified Health Center), a network of primary care, pediatric, behavioral health, dental and pharmacy services with offices in Rutland, Brandon, Castleton, West Pawlet and Shoreham. Community Dental offices are located in Rutland and Shoreham; Community Health Pediatrics  is in Rutland; and Behavioral Health services are available at all of our locations. Community Health Express Care centers, open 7 days a week, are located at the Rutland and Castleton Community Health Centers.
Learn more about Community Health at http://www.chcrr.org or call 802-779-9169.
The mission of Community Health is to be the foremost integrated community health center providing quality and collaborative care that is accessible to all people, in order to live their best lives and build stronger communities.
Source: 9.15.2023. Rutland - Community Health at http://www.chcrr.org