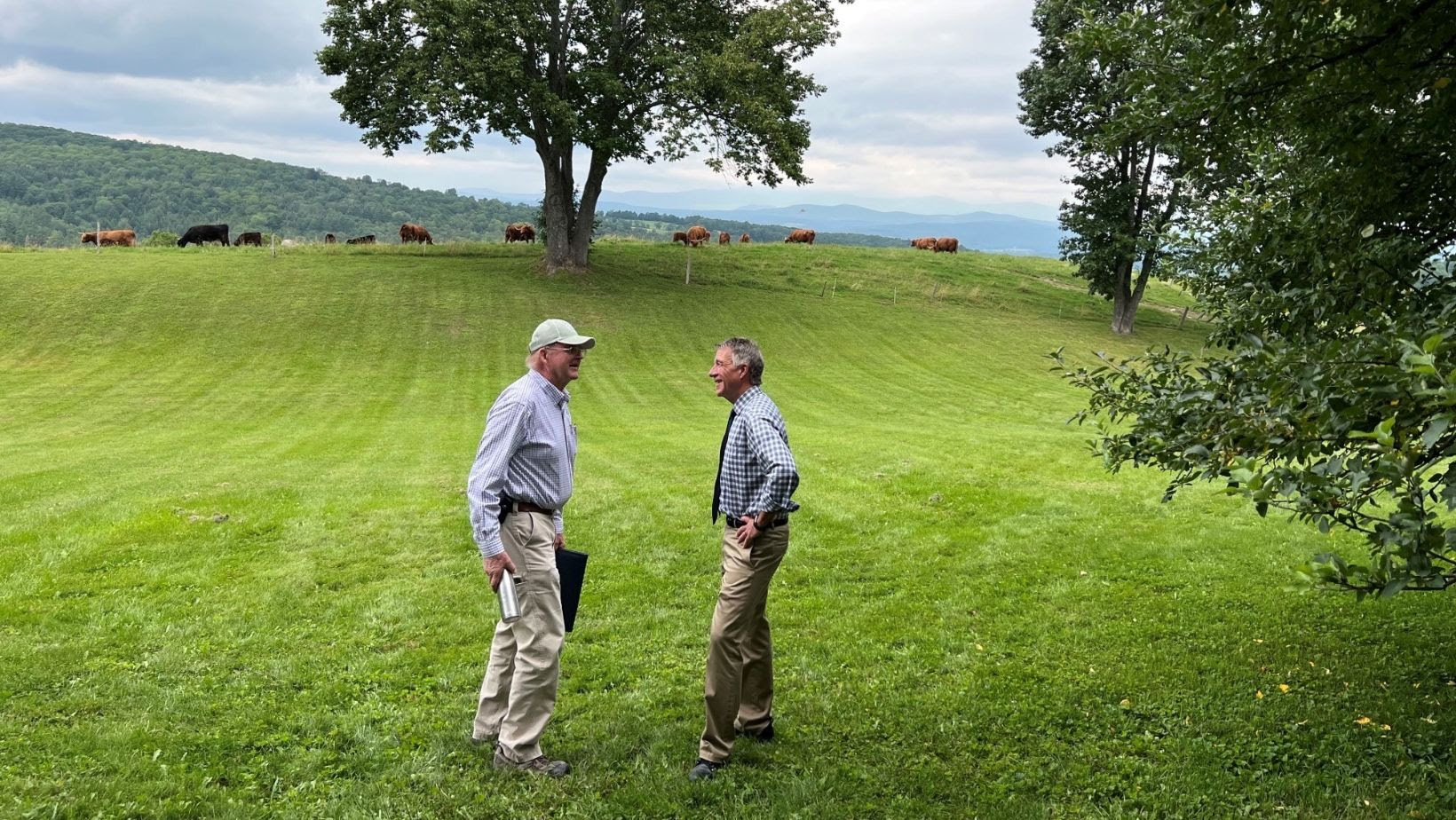 Vermont Agency of Agriculture Food & Markets Vermont is opening up its working farms and businesses to visitors this summer. This comes as Governor Phil Scott declares August as Agritourism Month in Vermont. The combination of these two industries is important to Vermont's working landscape and the state's economy.
There will be dozens of on-farm activities in every corner of the Green Mountains this summer, giving the public the opportunity to engage in authentic experiences and see how Vermont's food is grown, raised, and produced. Experiences from tasting award-winning food and drink to spending a night on the farm and waking up with the cows create memories for families while supporting Vermont agriculture.
While agritourism in Vermont is not confined to the month of August, the proclamation recognizes the harvest activities that inherently come this time of year, from crops of sweet corn to Vermont's farm stands loaded with vegetables and berries. The proclamation also recognizes that agriculture officials from across the globe will meet here in Burlington this August to discuss how agritourism can contribute to a region's economy while continuing to feed the world, during the International Workshop on Agritourism.
Many agritourism activities make up the tapestry of Vermont's on-farm experiences. From Vermont Open Farm Week starting today, August 7th, to the Vermont Maple 100, to the recently held Breakfast on the Farm and Burger Night events, our state sets a high bar to which other states look for inspiration. That is why state agritourism officials are excited to welcome the world to Vermont to share our expertise. 
If you are a farmer looking to expand or create an agritourism attraction, check out the new Guide to Navigating Vermont's Agritourism Regulations from UVM Extension and get your tickets for the upcoming International Workshop on Agritourism in Burlington from August 30th-September 1st! If you are a Vermonter interested in supporting our agritourism industry, please attend an Open Farm Week or Vermont Maple 100 event this year!
Climate-Friendly Digital Marketing Toolkit
NOFA-VT, in partnership with Vital Communities and Vermont Organic Farmers, created a Climate-Friendly Digital Marketing Toolkit.
This project was created with the help of the Vermont Specialty Crop Block Grant Program from the Vermont Agency of Agriculture, Food & Markets. The toolkit seeks to improve sales for Vermont certified organic farms and educate consumers on the role organic farmers play in addressing climate change.
This was achieved through working with local Vermont artists, graphic designers, and photographers. Organic farmers, click below to access the free marketing toolkit to promote your climate-friendly farm practices!
Access this helpful toolkit here. 
UVM Extension Master Composter Course
Join University of Vermont Extension for a Master Composter course designed to teach the basics of  backyard composting. 
The course will cover the biology of composting, soil and decomposition ecology, site and container selection, compost "recipes," the composting process, troubleshooting, disease control, worm composting and Vermont's Universal Recycling Law.
The course takes eight weeks to complete. You can move at your own pace or complete the volunteer track where participants become a certified master composter and engage in live discussions. The cost is $50 for Vermonters and $150 for out-of-state residents. 
Course: September 2nd-December 2nd
Affordable Capital and Credit Access Discussion
Join rural community and economic practitioners and field colleagues for Thrive Open Field, a relationship-building, knowledge-sharing, bi-monthly discussion.
Hosted by Aspen Community Strategies Group, Open Field sessions will offer a chance for frank and productive conversation about rural organizations and people's ability to access reliable, affordable capital and credit. 
The conversation will focus on Rural places and Native nations and how they should be equipped with resources and support so that each person can pursue and live a healthy, safe, and fulfilling life. 
Please register for this discussion here.
Discussion: August 12th at 1:00pm ET
Register for the 2022 Vermont Shearing School
The Vermont Sheep and Goat Association and UVM Extension will sponsor a two-day Vermont Sheep Shearing School at Shelburne Farms in Shelburne, VT.
This is a beginner/intermediate course. Participants will get hands-on experience shearing sheep with the guidance of professional shearers. Aspects include shearing day preparations, equipment set up and basic maintenance, fitness, the shearing pattern, sheep handling and control, and basic wool handling.
The cost for the 2-day course is $275 and participants should have their own equipment. Email Jim Mcrae at [email protected] or call (802) 483-2463 to register. 
Course: September 10th-11th